Radiology
The comfort and satisfaction of our Patients is always in the first place. We devote as much attention to each Patient as we need in a given situation. We answer questions and try to dispel all doubts arising during treatment. We treat our Patients individually and in this way
we also select treatment methods. We have modern diagnostic and treatment equipment. We use advanced methods of treatment with proven effectiveness.
Breast ultrasound
We carry out breast ultrasound examination, thanks to which we can detect breast changes at an early stage of their development.
Abdominal ultrasound
With the help of ultrasound examination of the abdominal cavity we determine the state of internal organs, including liver, kidneys, spleen, etc. The test also allows the detection of nodules, cysts and the diagnosis of the source of pain.
Thyroid ultrasound
During the ultrasound examination we detect possible changes in the thyroid gland. The test allows to diagnose bumps, cysts and other changes.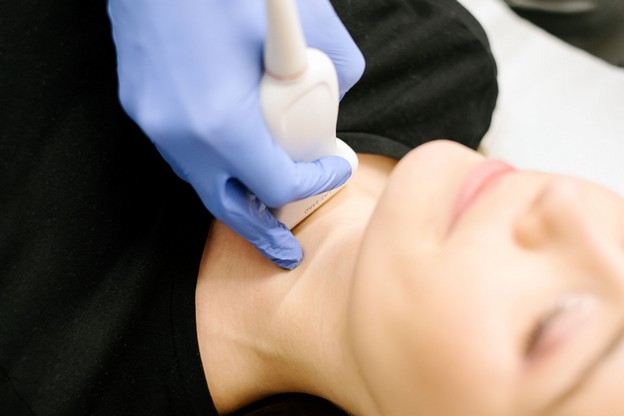 Ultrasound of the testes
Ultrasound of the salivary glands
Ultrasound of the lymph nodes
Ultrasound of soft tissues
Preparation for ultrasound examination of the abdominal cavity
The day before the test:
easily digestible, light diet (especially without beans, peas, cabbage, etc.)
it is recommended to take measures to eliminate bloating, e.g. Espumisan 3×2
On the day of the test:
please do not eat or drink (especially carbonated drinks and coffee) at least 5 hours before the test. Non-carbonated drinking water is allowed
necessary medication should be taken at the usual time patients referred for testing (especially the bladder and prostate) should have a filled urinary bladder (feeling urge to urinate)
BACK TO THE TOP